Posted by Toro Bravo 4X4 on Oct 11th 2023
TORO BRAVO 4X4 UNVEILS THE 2024 SILVER SPEAR, A FIRST-OF-ITS-KIND OVERLAND WORK TRUCK, TOY HAULER, AND FAMILY-FRIENDLY RV.
Founder Jeff Rohrer Gives a First Look at Detroit Event of the New Silver Spear Now Ready for Production and Accepting Orders.
LOS ANGELES, CA (October 5, 2023) – TORO BRAVO 4X4, founded by Jeff Rohrer with concept engineering by PROTOTYP3, reveals the details of the first-of-its-kind WORK+PLAY+EXPLORE Overlander, Silver Spear.
The all-in-one work truck, RV and toy hauler, giving customers a tailor made, multifunctional user experience, is now ready for production and accepting orders from RV Dealerships across America and Canada with a MSRP of $299,000. For more details go to ToroBravo4x4.com
The Silver Spear currently utilizes a 2024 Crew Cab chassis from Ford F-550 work trucks and will likely be offered with Chevy 4500 or Ram 4500 work trucks in the future. Disrupting the adventure automotive category, Silver Spear's sleek modular box design features 3D-printed interiors and a utilitarian, four season, graphic wrapped exterior finish. PROTOTYP3 engineered the large and modular shape to provide an excess of space for cost effective add-ons and amenities allowing each customer to tailor their 4X4 to their preferred work and play specifications.
Silver Spear offers interior recess lighting and 3D printed, custom-designed cabinetry and components that includes a removable kitchen cooktop, permanent sink counter, folding bunk beds, and the over cab bedside storage. Other key features include aluminum exterior storage boxes, air conditioning, six solar panels, and three 200–amp hour lithium batteries. Silver Spear will be offered in black with cactus green features.
"There is nothing else on the market like the Silver Spear, designed for families, contractors, hunters, fishermen, and people who like to haul toys and enjoy the great outdoors," says Jeff Rohrer, founder of Toro Bravo 4X4. "With RV sales expected to see a 22% to 24% growth industry wide from 2023 to 2024 according to the RV Association, the Toro Bravo 4x4 Silver Spear stands out from competitors, many of which are 4x2 with limits to roadside travel and off-road capabilities. Silver Spear users can choose the roads less traveled with all the comforts of home."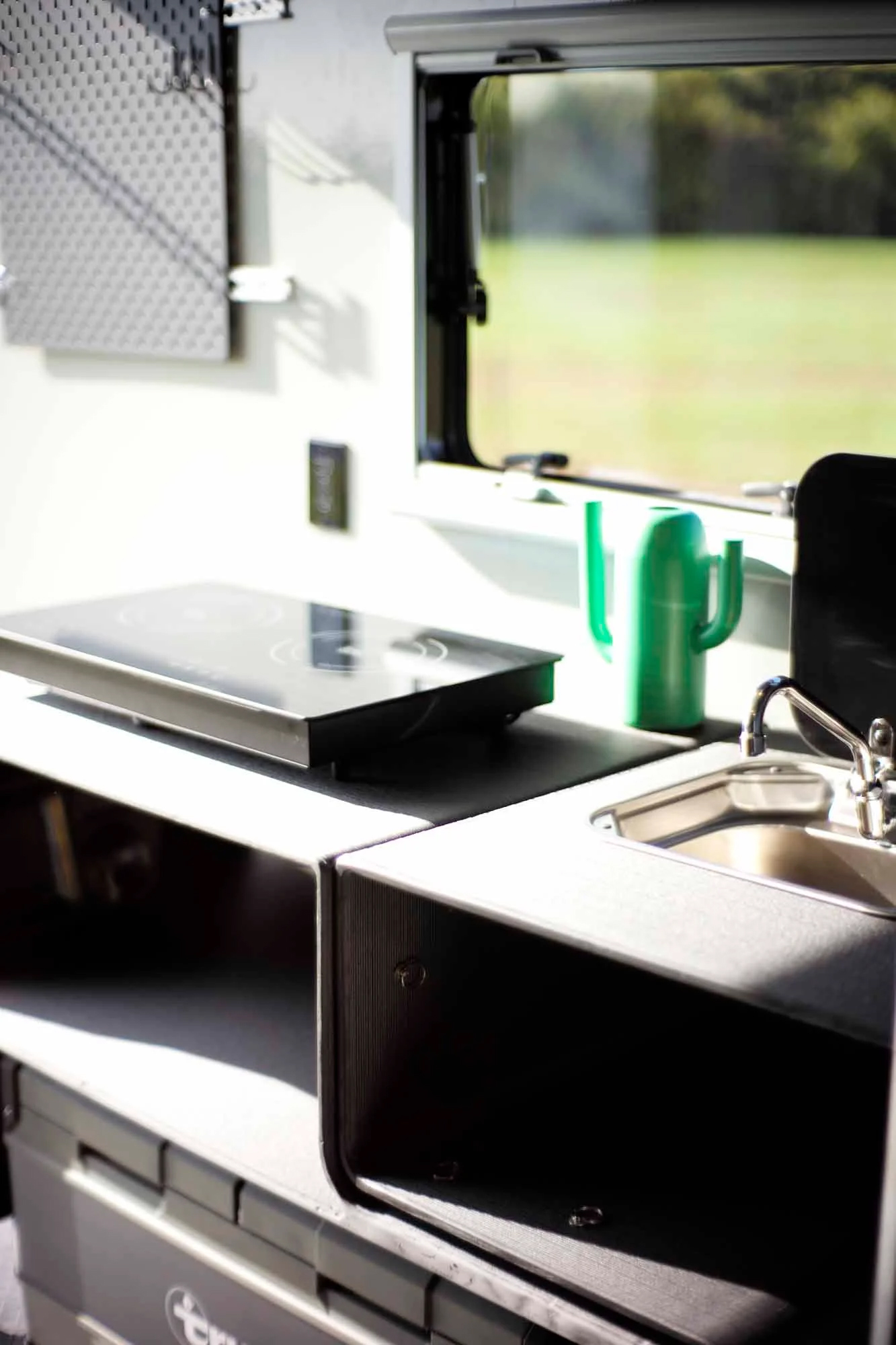 The Silver Spear transforms from day to night or weekday to weekend offering a queen-sized bed and two, fold-down bunk beds that can be removed for workdays. The entire back of the Silver Spear opens flat to allow easy loading and unloading of work equipment and activity vehicles with ease – accommodating up to four motorcycles, or one ATV, or one large snowmobile. In addition, the ramp has a dual use when positioned at 90 degrees, transforming into an outdoor table, cook station, porch, or workbench.
A wet bath and kitchen sink are built in and have 30-gallon capacity for fresh water, 30-gallon capacity for gray water and a cassette toilet to remove the requirement to empty a blackwater tank at a designated facility. The modular galley is equipped with an induction cooktop and a 25-gallon Dual-Zone powered cooler which can be rolled outside with ease to cook in open spaces or make more room for work supplies when needed.
Built for hardcore exploration, the Silver Spear features factory four-wheel drive running on 35-inch BFG K02 tires, interior toy hauling, and tow capability for boats, jet skis, UTVs, horse trailers, and more. The Silver Spear is ready to set up camp wherever the user may want to go in the great outdoors.

About Toro Bravo:
Toro Bravo, launched in February 2023, was born out of a void in the RV space that allows customers a vehicle to use as a work truck weekdays, and to play and explore on the weekends. The brand's modern utilitarian approach is meant to accommodate a vast array of potential users, giving customers the ability to customize their rig to their specific business and passions; a 365-day insulated space rated R14 and rugged when you need it, comfortable when you want it. Toro Bravo's first model, the Silver Spear, is modular and customizable with most notable features including up to 400 sq ft of work/live space that benefits from the fold-down rear door for easily loading tools and toys, and the ability to go off-the-grid for days at a time with six solar panels, three 200–amp hour batteries, and 40 gallons of fresh water. Find more information on TORO BRAVO 4x4 and Silver Spear at www.torobravo4x4.com.
Media Contact:
Lucky Break PR
Mike Stommel
Kris Ferraro
mike@luckybreakpr.com
kris@luckybreakpr.com
323.602.0091